Looking forward to the weekend. Nothing special planned but I do have a Book Club meeting on Saturday, and then I need to do alot of work on the Family Reunion on Sunday. Not to mention that I do have a few items on my checklist for Ryan's First Birthday Party.... so many things to do - not enough hours in the day.
TODAY
I know that I can and should take some things to the tailor for a little nip and tuck. Well I ordered this shirt from Talbots a few weeks ago and the sleeve length just wasnt right. I took it to the tailor and
got
a little nip tuck by cutting the sleeves to 3/4 and I love it!!
Top (tailored for 3/4 sleeves)-Talbots; jeanie pants-Burlington Coat Factory
YESTERDAY
Here is my attempt at pattern mixing. A dotted top with this lovely printed skirt. I purchased this skirt at Talbot's a few weeks ago and this
needs
a little nip tuck. I think the length is a little longer than I would prefer for my shape and height. So I will be getting it chopped off at the bottom.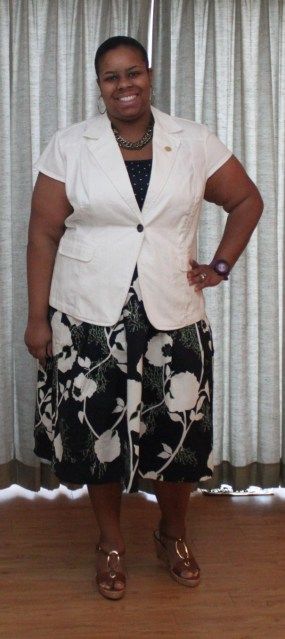 jacket-giveaway bag from Aunt; dotted tank-LaneBryant; skirt-Talbot's