Well Im back from a busy past two weeks.
The first week
of August, Ryan came home from daycare with a high fever. So I took him to Patient First adn they said he had an ear infection. So Hubby and I alternated days staying hom - therefore - no outfit of the day posts.
The next week
I was in full planning mode for the Cofield Family Reunion held in Baltimore, MD where I was the chairperson. The reunion was a hit. Ill post a few pics soon.
Now - Back to our program
. I spent Monday out shopping for this weekend. Exciting things to come - BIRTHDAYS!!!!! Cousin Nikki has her 40th Birthday Party this weekend - so I had to get her a gift and I needed an outfit because she is having a "white party" While at the mall, i just couldnt resist picking up a few things that I didnt need.... and then next weekend - RYAN TURNS ONE YEAR OLD!!! more pics and details to come later on that.. but its still exciting.
Today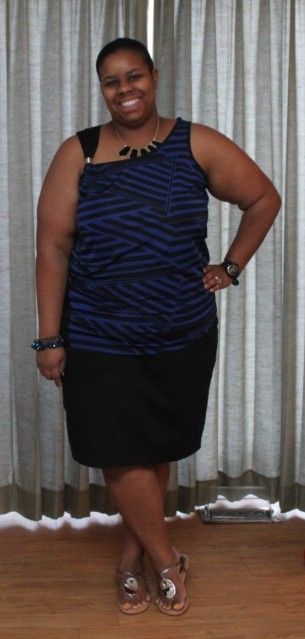 Top-AshleyStewart; Skirt-Macys; Shoes-JCPenney
Yesterday
Dress and shoes-Ross[North Carolina]